Block slabs
Ecological marble with assembled slabs.
We limit the use and waste of raw materials.
Discover textures and colors previously unthinkable with "standard" marble slabs
Production of block slabs
In an era of commitment to the sustainability of production processes and commitment to a circular economy, blockboard becomes the protagonist.
How are block slabs produced?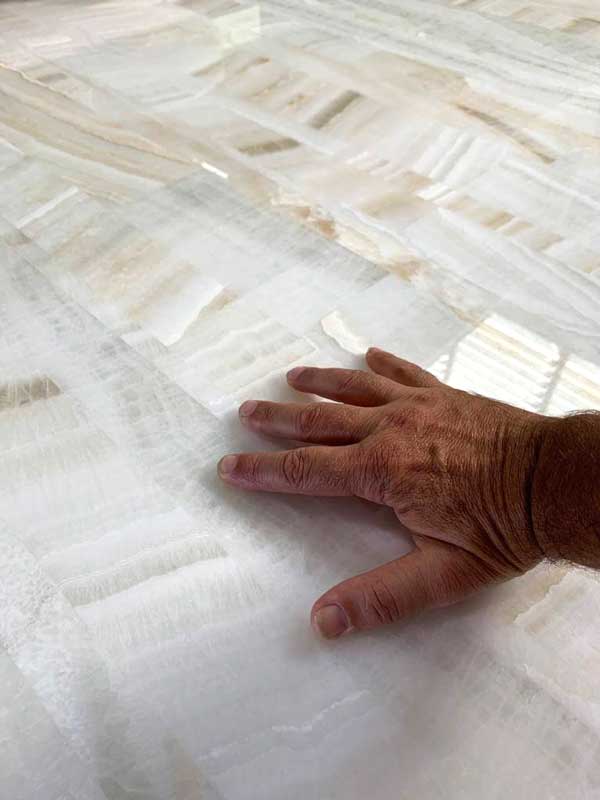 The block slabs are made up of small blocks, damaged slabs and scraps that are broken down and reassembled into slabs.
The slabs are carefully chosen on the basis of the background color and the veins in order to obtain uniform production batches.
Through this selection, a unique pattern is obtained with a particular chromatic effect that varies according to the size of the strip.
The added component that determines the gluing between the strips is a special epoxy resin, special for its strong hold, and composition, for each type of material the coloring of the resin is skilfully managed in order to obtain an invisible, precise gluing line. it is clean.
In addition to the fiberglass mesh, placed on the back of the sheets, an application required to ensure the safety of users' maneuvers.
Sizes and formats of the strips
Sizes and formats of the block slabs are made for everything that is normally used with natural marble slabs: kitchen tops, tables, floors, coverings, furnishing elements etc …
Measurements of the strip
Standard
cm 10 – 7, 5 – 5 – 2.5 with measures to run
3.0
cm 3 with measures in length to run
Blockboard slabs are a product suitable for interiors.
Type of materials that can be used: marble, stone, granite, quartzite.
Thickness: 1,8cm, 2,8cm.
Finish: polished, honed, brushed, lether.
The basic concept of "blockboard" is amplified by the new possibility of creating semi-finished products, multiples in size, according to the specific requests and needs of the project, reducing processing waste to the limit, and therefore costs.
Each custom-made order requires adequate packaging to ensure the integrity of the product during handling and transport.